This event will feature a variety of panelists from both industry and education who will present their successful partnerships, answer questions and provide recommendations on how to apply these practices. Networking breaks will follow each panel, and breakfast and lunch will be provided.
2014 Conference Speakers:
---
Mike Barkett
President, Mississippi Construction Education Foundation

Mike Barkett is president of the Mississippi Construction Education Foundation (MCEF), a non-profit educational foundation with a mission of recruiting, training and developing a quality workforce for the commercial construction in Mississippi. He joined the staff at MCEF in 2002 where he served as the state director of education and training. Barkett directs all programs of the Foundation, serving a Board of 25 directors representing the construction industry and nine major construction trade associations. Barkett oversees the training and credentialing of approximately 4,700 high schools students as well as community college and adult craft professionals who are enrolled in the Foundation's four-year apprentice program. He works closely with the directors and instructors at the 106 different CTE centers in the State in ensuring quality utilization of the NCCER curriculum. MCEF is an NCCER Accredited Training Sponsor as well as an Accredited Assessment Center.
Barkett spent 25 years in education serving as business manager, teacher, administrator, athletic director and head baseball coach at St. Andrew's Episcopal School in Ridgeland, Mississippi. He owned and operated his own sporting goods business.
Barkett is a Construction Education Professional. He has a master's degree in administration and coursework toward a doctorate in education. He earned a bachelor's degree at Centenary College in Shreveport, Louisiana.
Mike is married to the former Linda Simpson of Gulfport, and they have a daughter Katherine, who is a graduate of the University of Mississippi. Mike and Linda are among the founding members of Lakeland Presbyterian Church where he serves as a ruling elder.
[ Page Top ]
---
Mittie Cannon, Ed.D.
Director of Workforce Development, Robins & Morton

Mittie Cannon, Ed.D., is a seasoned workforce developer for Robins & Morton, a privately held 68 year-old construction and engineering company specializing in power and industrial, healthcare, commercial, education and government projects. In this capacity, she is responsible for making sure that Robins & Morton's craft employees have the skills they need to do a quality job in a safe manner. Among her many accomplishments, Cannon recruited and mentored the first woman welder in the history of the ABC National Craft Championships to take top honors in welding.
Cannon has been recognized by the Birmingham Business Journal as one of Birmingham's Top Business Women, inducted as Who's Who in Black Alabama, and has received accolades as a business leader and champion for women by the Birmingham Women's Exchange. She serves on the Board of Directors for SkillsAlabama, as chair of the advisory council for the Career & Technical Education of the Alabama Department of Youth Services, chair of ABC National Workforce Programs & Initiatives Committee and chair of the NCCER Workforce Development Council & Assessment Council. Cannon has written articles for and been profiled in The Cornerstone Magazine, guest on National Public Radio with David Brancaccio, host of Marketplace Morning Report and Co-founder of CraftTrain.
A former construction worker in the electrical trade, Cannon received her doctorate in educational leadership from University of Phoenix, with a specialization in curriculum and instruction. Cannon's dissertation addresed the topic "Exploring Reasons Women Choose to Pursue Entry-level Construction Trades Employment."
A native of Baxley, Georgia, Cannon is passionate about creating opportunity for the craft professional – particularly women in construction!
[ Page Top ]
---
Emily DeRocco
Principal of Engage, Educate, Employ (E3) and former Assistant Secretary, U.S. Department of Labor

In April 2012, Emily DeRocco launched a Washington, D.C.-based strategic consulting practice focused on linking education, workforce and economic development assets for competitive advantage.
DeRocco is the immediate past president of The Manufacturing Institute where she designed and implemented a strategic national agenda focused on education reform and workforce development, innovation support and services, and research on behalf of U.S. manufacturers.
Prior to her leadership in U.S. manufacturing, DeRocco was nominated by President Bush and confirmed by the U.S. Senate as the Assistant Secretary of Labor in 2001. In that position, DeRocco was responsible for managing a $10 billion investment in the nation's workforce. She created and implemented regional economic development initiatives in 39 regions across the nation during her tenure, using talent development strategies to drive competitive advantage for America's businesses.
During her tenure with the Labor Department, DeRocco chaired or vice-chaired numerous boards and commissions, including the Education and Workforce Committee of the Secretary of Education's Commission on the Future of Higher Education, the Education and Workforce Committee of the Department of Commerce's Interagency Working Group on Manufacturing, and the President's Committee on Economic Adjustment for the Defense Department's Base Realignment and Adjustment Commission.
DeRocco has represented the United States at the G-8 Labor Ministerials, the Organization for Economic Cooperation and Development, the Western Hemisphere Competitiveness Forum, U.S.-Canada Policy Forums and U.S.-EU Dialogues.
DeRocco is a graduate of The Pennsylvania State University and received her Juris Doctorate from the Georgetown Law Center. She currently serves on the boards of the Western Governors University, Harrisburg University of Science & Technology, University of Mississippi Center for Manufacturing Excellence and EWI~the Ohio-based innovator in manufacturing technologies.
[ Page Top ]
---
Curt Eysink
Executive Director, Louisiana Workforce Commission

Curt Eysink was appointed to serve as executive director for the Louisiana Workforce Commission (LWC) by Governor Bobby Jindal in July 2009. Eysink has led the establishment of a demand-driven workforce system for Louisiana focused on meeting employers' workforce needs to ensure economic growth and opportunity.
In September 2014, Eysink was voted president-elect of the National Association of State Workforce Agencies, the group that represents state workforce development and unemployment insurance agencies in the nation's Capital.
Under Eysink's leadership, the LWC has:
Aligned the workforce system with the needs of employers to ensure students and workers are properly prepared for Louisiana's highest-rated demand occupations
Helped fill more than 700,000 jobs
Transformed unemployment insurance into an intensive re-employment program, helping people find their next job much quicker while controlling tax rates for employers and ensuring Louisiana maintains one of the strongest unemployment insurance trust funds in the nation
Saved Louisiana employers tens of millions of dollars in workers' compensation legal expenses by ensuring injured workers' health care conforms to national best practices and by using highly respected physicians rather than the courts to settle disputes about that care
Before joining the LWC, Eysink served as director of marketing for Louisiana Health Care Review Inc., and as city editor of The Advocate newspaper. He earned a Bachelor of Arts degree in journalism with a minor in economics from Louisiana State University.
Curt and his wife Dianne have three children.
[ Page Top ]
---
Chuck Goodrich
Executive Vice President of Gaylor Electric

Chuck Goodrich is the executive vice president for Gaylor Electric, Inc., and has been with the company for almost 20 years. His responsibilities include providing leadership for five Indiana locations—Sellersburg, Columbus, Noblesville, Lafayette and Elkhart—in addition to Worthington, Ohio; Nashville, Tennessee; Charlotte, North Carolina; Ridgeland, South Carolina; and Atlanta, Georgia. He is also responsible for budgeting, training, reviewing all team projects and community relations.
Goodrich is a building construction management graduate from Purdue University and is very active in both professional and philanthropic committees and boards. He is also the incoming chair-elect of the Purdue Construction Advisory Board for Building Construction Management. Goodrich is currently serving at the national level of the Associated Builders and Contractors on the Executive Board. He also serves nationally on the ABC Legislative Committee and Free Enterprise Alliance Committee.
At the community level, Goodrich actively participates with Workforce Development and serves as chairman of the Riverview Health Foundation. Recently, he has pursued and encouraged internships at various local businesses for high school students to help improve their skills and opportunities for their futures.
Goodrich resides in Noblesville, Indiana, with his wife, Tricia, and their four children. He and his family are active members of the White River Christian Church in Noblesville. Goodrich travels to the country of Panama on mission trips with his church to help improve the life and health of the natives. Spending time with his wife and kids ranks at the top of his favorites list, followed by playing golf and being a big Indianapolis Colts and Purdue Boilermakers fan.
[ Page Top ]
---
Tim Lawrence
Executive Director of SkillsUSA
Having been involved with SkillsUSA for most of his life, Timothy Lawrence firmly believes that getting involved in technical education and joining SkillsUSA in high school set his course for a successful future. He worked in both labor and management positions in the manufacturing industry for nine years while continuing his education, graduating Magna Cum Laude from James Madison University with a degree in Administration and Training. He fulfilled one of his life dreams when he became a teacher in Virginia in 1978. He achieved another life goal when he was named the National Trade and Industrial Education Teacher of the Year in 1983.
In 1987, he joined the Virginia Department of Education as a vocational student specialist and chief executive officer of the state SkillsUSA organization. He also served other youth initiatives with the National Safety Council's Youth Division, Students Against Driving Drunk and numerous community service organizations. In 1996, Lawrence joined the national SkillsUSA organization as business and industry partnerships director at their National Leadership Center in Leesburg, Virginia. In January, 2001, Lawrence became the chief executive officer of SkillsUSA, one of the nation's largest individual membership organizations. In this position, he feels he works for the students and teachers of America's technical education system.
In addition to his duties for SkillsUSA, Lawrence currently serves on several national boards and committees and is proud to have been a member of the Manufacturing Skill Standards Council. On the federal level, he most recently served as a member of the independent panel on the National Assessment of Career and Technical Education and the Job Corps National Advisory Committee, both of which made reports and recommendations to the U.S. Congress.
[ Page Top ]
---
Beth Meguschar
Assistant Principal of Curriculum and Instruction at Noblesville High School

Beth Meguschar has been a longtime educator and has spent the last decade in school administration. She is currently assistant principal for curriculum and instruction at Noblesville High School (NHS) just north of Indianapolis, Indiana.
In recent years, Meguschar has recognized the need for her high performing school to broaden the idea of college and career readiness to include the development of workforce readiness skills. Much of her recent focus has been with internship coordinator Susan Wiersema in connecting with industry to bring relevant work opportunities to NHS students.
In 2013, a partnership was forged with Associated Builders and Contractors (ABC) in Indianapolis to provide interested students an introduction to the specific skills needed to succeed in the construction area. Gaylor Electric has been an enthusiastic school partner in further developing these young students' skills through placement in internships, both in the summer and the school year.
Meguschar's interest in expanding workforce readiness extends to local growing partnerships in manufacturing, the auto-industry as well as health and human resources.
[ Page Top ]
---
Eddie Rispone
Co-Founder and Chairman of ISC Constructors, LLC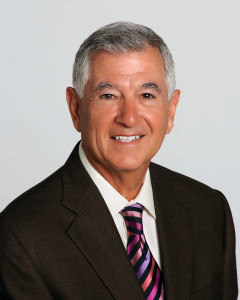 Edward "Eddie" L. Rispone, a 1972 Louisiana State University graduate with a Bachelor of Science in Construction Technology, is co-founder and chairman of ISC Constructors, LLC, which specializes in electrical and instrumentation engineering and construction. ISC predominantly performs work for industrial owners throughout the Gulf Coast, with its home office in Baton Rouge, Louisiana, and branch offices in Houston and Beaumont, Texas. ISC began in 1989 and employs approximately 2,000 people with annual revenues of approximately $220 million.
Rispone has served Associated Builders and Contractors (ABC) on a local, state and national level and was named the 2003 national chairman. In 2004, he became the ABC representative with Construction User Round Table (CURT), a national and international forum for the exchange of information, views, practices and policies of construction users from an array of industries.
ISC has an excellent reputation in the industry, both in terms of performance and safety. ISC has received the prestigious ABC National Excellence in Construction Award 13 times. ISC has also been awarded the CURT Workforce Development Award and the CURT Construction Industry Safety Award.
In 2009, Rispone was appointed by Governor Bobby Jindal to serve as chairman of the Louisiana Workforce Investment Council. The Workforce Investment Council consists of members from public and private entities, industry associations and labor organizations who have come together to address the workforce needs in the state of Louisiana.
In 2011, Rispone accepted the role as chairman of the Louisiana Federation for Children, a project of the American Federation for Children whose main purpose is to reform publicly-funded education. He and his wife, Linda, were the executive producers of a documentary film on education reform called "The Experiment," which follows the lives of five children in New Orleans through the 2009-2010 school year. The documentary film won Best Louisiana Feature at the 2011 New Orleans Film Festival.
Eddie is currently married to Linda Lemoine Rispone and was previously married for 35 years to the late Phyllis Moberley. He and Linda were both widowed and recently celebrated their eighth anniversary in August. Between them, they have seven children and 19 grandchildren.
[ Page Top ]
---
Jimmy Sawtelle
Senior Vice President of Workforce Solutions at Louisiana Community and Technical College System

Jimmy Sawtelle serves as Louisiana Community and Technical College System's (LCTCS) senior vice president for workforce solutions. He has served as LCTCS vice president for career and technical education from 2006-2012 and, as workforce development officer and campus dean within South Central Louisiana Technical College.
In addition, Sawtelle has served in the role of director of Acadiana Technical College, Central Louisiana Technical College and South Central Louisiana Technical College. Sawtelle earned his bachelor's degree from Nicholls State University and his master's degree from McNeese State University. He is currently pursuing a doctoral degree at the University of New Orleans. Sawtelle grew up in Ville Platte and resides in Baton Rouge with his wife Laura and two children, Jack and Maria.
[ Page Top ]
---
Chelle Travis
Assistant Vice Chancellor for the Tennessee Colleges of Applied Technology under the Tennessee Board of Regents

Chelle Travis is the assistant vice chancellor for student services of the 27 Tennessee Colleges of Applied Technology under the governance of the Tennessee Board of Regents. She has worked in technical education on the secondary and postsecondary levels for over 12 years.
In addition to her current role, Travis has served as the assistant vice chancellor for instruction and on technology center campuses as the ACT center manager, business and industry coordinator, student services and admissions coordinator.
On the secondary level, Travis held the position of director of career and technical education at the Tennessee Department of Education.
As part of her current role as assistant vice chancellor, she also serves as the Tennessee Postsecondary SkillsUSA association director. Presently she serves on the Board of Trustees for the American Technical Education Association and is the co-founder of the charity organization HOPE-Nashville.
She holds bachelor's and master's degrees in business administration from Middle Tennessee State University. Travis is currently pursuing her doctorate at Tennessee State University in Higher Education Administration.
[ Page Top ]
---
Susan Wiersema
Internship Coordinator and Community Liaison, Noblesville High School
Susan Wiersema has been in education for the past 30 years. She was a classroom teacher for many years, as well as heading up the Special Education Department in two different districts. Wiersema was involved in developing both academic and vocational programs for high school students.
For the past two years, she has served as internship coordinator and community liaison in a suburb outside of Indianapolis, Indiana. Working with community leaders and school administration, an internship program was developed placing high school seniors in a variety of community businesses and organizations. These students spend part of their senior year in a business or organization learning specific career skills, as well as the soft skills often missing in the current workforce.
In the first year of the program, a partnership was forged with Gaylor Electric, which led to students not only interning with Gaylor, but students beginning their training and education as an apprentice in their trade.
[ Page Top ]
---
LeAnn Wilson
Executive Director, ACTE

LeAnn Wilson has served as the executive director of the Association for Career and Technical Education (ACTE) since her appointment in 2013, after having served as ACTE's chief financial officer since 2005. Through her leadership role, Wilson has gained a deep appreciation for the work that America's career and technical education (CTE) professionals do every day to equip their students with the skills they will need to keep our country strong, and she has strived to raise awareness of CTE among policymakers and the public.
Wilson has demonstrated exemplary leadership during her time with ACTE, including the development of sound institutional financial strategies to ensure long-term organizational stability and growth. She has served in a variety of financial positions during her 26-year career, including 16 years in nonprofit association environments. She earned a Bachelor of Science in Business Management from the University of Maryland, College Park, and currently resides in Alexandria, Virginia, with her husband, Terry, and two daughters, Kelly and Samantha.
[ Page Top ]
---
Boyd Worsham
Vice President, The Haskell Company

Boyd Worsham is vice president of construction support for The Haskell Company where he has worked since 1980. He began in the carpentry field, progressing through the ranks of field project supervision to cice president. He has been involved with major construction projects throughout the United States during his 30-year tenure. In his current corporate role, Worsham is involved with projects in all of Haskell's delivery groups and regional offices.
Worsham received his MBA from Jacksonville University in 2006, and is a licensed general contractor in Florida and a LEED Accredited Professional.
The Haskell Company, headquartered in Jacksonville, Florida, has been a leader in design–build project delivery since its inception in 1965, having completed well over 1300 projects and tens of millions of square feet of space throughout North America.
[ Page Top ]